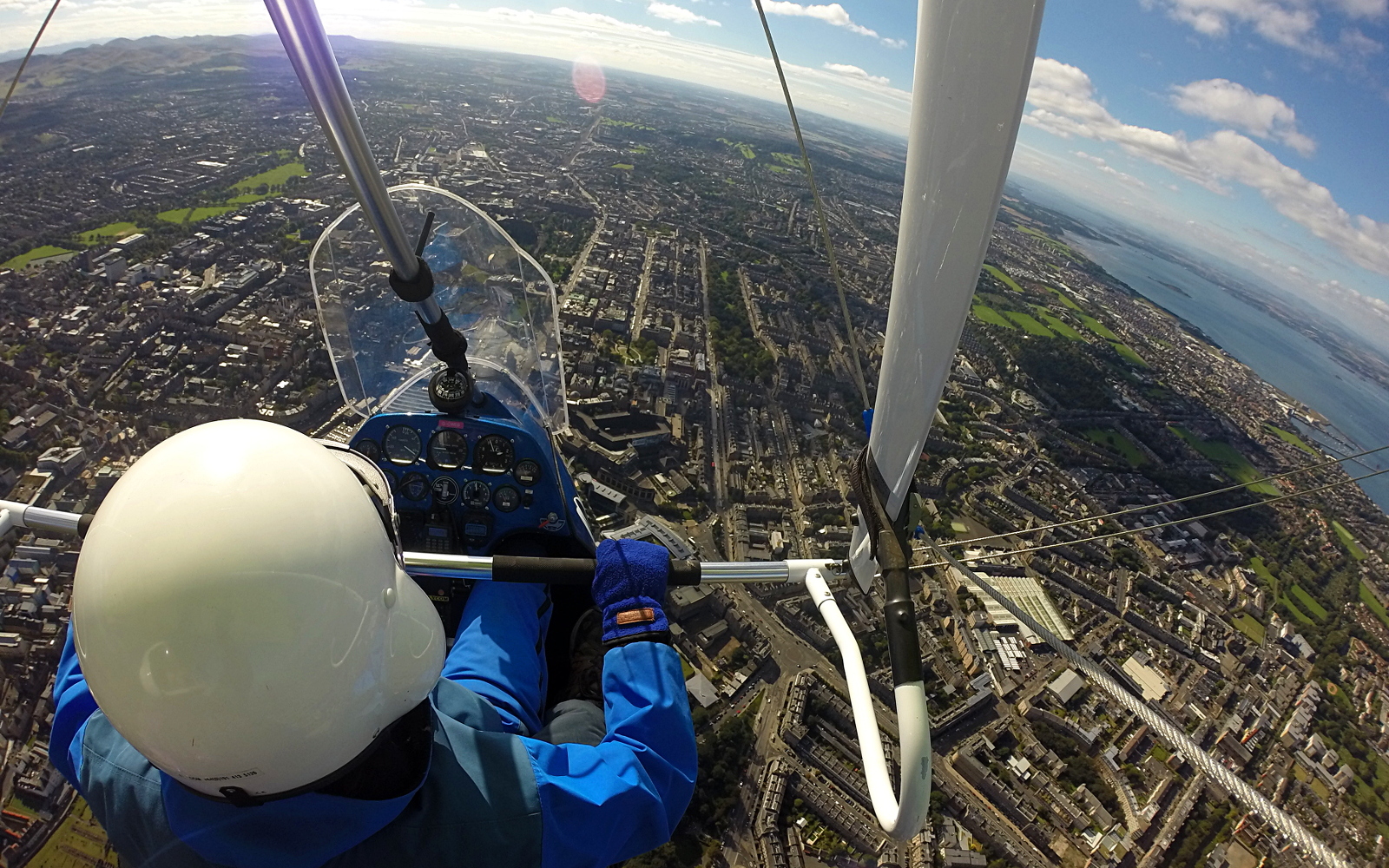 Air Experience flight over Edinburgh
Microlighting... is it safe?
Microlighting is, according to statistics, the safest form of sport aviation in the UK. A common question is "what happens if the engine stops?" - the answer is that they glide gently down to earth, and in East Lothian there are plenty of suitable fields to land in. At East of Scotland Microlights the aircraft we use are top of the range, UK-built to extremely high CAA-regulated safety standards and they are maintained and inspected regularly. We also pride ourselves that the level of training we offer is of a very high calibre - once you have trained with us, you will be prepared for most eventualities you may come across.
What about the weather? Which conditions will stop my flight from taking place?
Watching the weather forecast is one of the most important parts of our day! If the wind is too strong, or from the wrong direction, if there is heavy rain or fog, then we are unable to fly. This is why we ask everyone who flies with us to call us on the day to check what the forecast is like.
Can I bring my family/friends to watch?
Yes! We welcome visitors - it's great fun to watch someone taking off and to try to catch them flying past on camera. We have a cosy caravan where they can wait if it's chilly, or a large decked area with picnic tables which makes an ideal viewing platform for watching flights take off and land. The only thing we ask is that dogs are kept on leads and that children are supervised and kept on the deck at all times - for safety reasons. Also please let your visitors know that SMOKING IS NOT PERMITTED and please also limit the number of cars bringing your party to TWO - we have limited parking.
Is there anywhere they can get refreshments while they wait?
We have a kettle with instant coffee & tea in the visitors' caravan, which is fine if they are waiting for someone with a 30 minute flight. If waiting for longer then we would suggest that they go round the corner to Merryhatton Garden Centre which has a really lovely café selling delicious coffee, cakes, snacks and lunches. If you are giving someone a voucher, they will be receiving a 10% discount voucher for the café - get them to give it to their guests!
Are there any cafés, restaurants, pubs nearby?
As well as the café at Merryhatton, the local towns of North Berwick, Haddington, Gullane, Dirleton, Aberlady and Dunbar all have good places to eat. Our favourites are The Old Club House, a pub in Gullane which does great bar food, The Herringbone in North Berwick and The Aviator Café at the nearby Museum of Flight - ask Jill for directions.
We want to make a day of it - what other places of interest are nearby?
East Lothian has a wealth of places to visit and things to do. Apart from the stunning beaches, there are activities for all the family - for little ones there is East Links Family Park near Dunbar, for aviation enthusiasts of all ages then the National Museum of Flight is just across the road from us - go and see Concorde and visit the latest attractions! The Scottish Seabird Centre is in North Berwick, there is go-karting at Macmerry and much much more! See the Visit Scotland website for more ideas.
Does any public transport go to the airfield?
Airfields are generally pretty tricky places to get to by public transport, as they always tend to be quite a way out from local towns, by their very nature. There is a train station at Drem, 2½ miles away from the airfield, or North Berwick which is a little further. Trains to Drem and North Berwick run regularly from Edinburgh Waverley. You will either need to book a taxi to meet you, bring your bicycle with you, or get the bus from North Berwick.
There is a bus service which runs between Haddington and North Berwick (First Bus, number 121) with a drop-off at the Museum of Flight and East Fortune House - ask them to drop you at the end of the runway - I'm sure they will oblige! Details here.
Are there any B&Bs nearby?
There are plenty of hotels and bed & breakfasts in North Berwick and a few in Haddington. Visit Scotland has a list - look for closest to Athelstaneford.
Are there any taxi companies nearby?
The nearest towns which have taxi companies are North Berwick and Haddington. This link may help.
Do you have facilities for disabled visitors?
We now have a lovely toilet which is suitable for disabled visitors. Our viewing deck is accessible by wheelchair, but the visitors' caravan is not, though the members' clubhouse is and you are welcome to use this.
I am disabled but would love to fly - can I?
Absolutely! We have taken people with all sorts of disabilities - paraplegic, quadriplegic - sometimes we may need assistance getting you in and out of the aircraft, but we always try to make it a wonderful experience for you.
What should I wear for my flight?
We usually advise people to dress as though they are going for a walk on a winter's day - whether they are flying in the summer or the winter. Walking boots are ideal as your feet will be in the airflow, and socks which are long enough to tuck your trousers into are a good idea too. Wear layers, not too bulky - fleece is ideal. If you are flying in the winter, and especially if you are going on one of our longer flights then thermal underwear is recommended.
We will provide you with a one piece padded flying suit, fleecy neck tube, helmet with intercom (so you can't wear a hat) and two pairs of gloves.
Can I take my camera on the flight?
You can take your camera, but we do need you to have it attached to you by means of a neck strap (we can provide one for you, so long as there is somewhere on your camera that we can attach it to). Disposable cameras and phone cameras are not suitable, as they have no means of attaching a neckstrap. You should also know that it is not possible to remove your gloves during the flight (you are likely to lose them in the airflow) so you may have to compromise warmth for your photographs! Or you could practise using your camera with gloves on before you arrive.
Do you offer refunds?
No, vouchers are non-refundable, but we are happy to transfer them so long as they are still valid.
What is the maximum amount a passenger can weigh?
The maximum passenger weight is 16½ stones. We also have to be able to fasten the seatbelt.
How long are the vouchers valid for?
Vouchers are valid for a period of one year from the date of issue.
Are there any age restrictions?
The minimum age we are allowed to take up is 14 years old, which is the age that he or she can log his or her flight towards their pilot's licence. There is no upper age limit.
I have a fear of heights - will I be able to go flying?
Lots of members of our club have a fear of heights! Flying in a microlight is not at all like climbing a ladder, or standing on the edge of a cliff. Once you have taken off the world below looks like a patchwork quilt and for some reason, because you are not attached to it in any way, you tend not to be afraid of falling. I should know - I am one of those with a fear of heights! If, however, you have a fear of flying - then it probably is not for you.
I have diabetes/epilepsy/heart problems - can I still go up for an air experience flight?
There are certain medical conditions which mean that you cannot gain your pilot's licence, but there are no conditions with which you are unable to have an air experience flight, unless your GP does not recommend it. If in doubt, please consult your GP before making the booking.